When you see the movie Coco when it debuts in theaters November 22, you are in for a holiday winter treat! Because you'll see Olaf's Frozen Adventure too, it's the opening featurette! I screened it while at Walt Disney Animation Studios this month and honestly, my mind was so focused on all things Coco, I forgot we were to see this short film as well.
It made my experience even better because there were so many pleasant surprises! This little film made me feel so happy and excited for the holidays.
As the the first scene graces the screen, the excitement of the original Frozen will fill your senses and make you feel all happy and gooey inside. The gang is back, and the production is pristine. And the while the story is a short 22-minutes, it goes deep and packs a punch. 
I'm not giving away any spoilers, but do want to get you primed!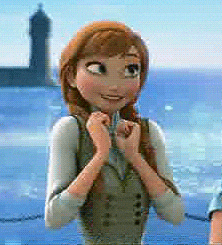 New songs!
Not just new songs – but very catchy new songs. As in – kids (and you) will be singing these all year round kind of catchy songs. That was actually the goal of songwriters Kate Anderson and Elyssa Samsel. During an interview with us, they admitted when they penned When We're Together, their aim was to create a classic holiday song to be shared for generations to come. You can look forward to FIVE new numbers.
NOTE: Here is a video to show the piano chords
Olaf ! Olaf! Olaf!
Everyone's favorite loveable ditzy snowman takes centerstage and works every moment. He kicks off the plot and makes us laugh – and even cry – through his journey. And just like in Frozen, we take a trip inside the mind of Olaf as he shares his perspective on life via an over-the-top show tune. Don't eat your popcorn during the scene because you'll choke it from laughing so much! But in this feature, Olaf has so much more to offer than just giggles. Seriously, you'll want an Olaf plushie to cuddle afterward.
Crafty L-O-V-E!
There are so many magical crafty moments in Olaf's Frozen Adventure. From giant cookies in the shape of Norway to shiny ornaments to extreme decorating…I left the theater with so much winter inspiration! And if even if you are not into crafting, you'll be amazed by a scene that involves an animated knitted sweater. Hours of painstaking hand painted talent went into that scene, so savor every movement. It's worth going back for another screening for that portion alone. Well, if you are into that kinda stuff like me!
A universal story about tradition and family, um, and holiday sweets!
I added the sweets, but still, they are in the movie too! This is what I loved most about it. It must be tricky to write a holiday story that applies to everyone. Directors Stevie Wermers-Skelton and Kevin Deters made it happen. The way they did it was by making ideas of family and traditions at the heart of the plot. Those two topics are relatable to almost everyone, especially with Elsa and Anna not having a traditional family makes it all the more endearing.

Olaf's Frozen Adventure opens November 22nd, and screens before the showings of Coco.

Love & light,